The Prolific Afterlife of Whales




​Crispin T.S. Little
On a routine expedition, oceanographers found a dead whale carcass
Discovered dozens of communities supported by the whale carcass
Found 400+ species living in the whale carcass
A lot of whale carcasses are found
Smith conducted research by sinking 3 dead whales
Whale carcasses go through 3 ecological stages
First stage called "mobile scavenger" stage, which can last up to 2 years
Second stage called "enrichment opportunist" stage, which can last up to 2 years

Third stage called "

sulfophilic" stage, the longest stage, can last up to 100 years depending on the size of the whale
Whale bones are rich in lipids
69,000 great whales die every year
In 1987, oceanographers discovered a community of more than 400 marine wildlife in a whale carcass. The whale had been dead for many years, yet there was still life around it. Following this discovery, another oceanographer conducted an experiment with his colleagues. They took 3 gray whales that were washed up on the coast of California and sank them. They observed the whale and discovered that it goes through three ecological stages. The first stage is called the mobile scavenger stage. This is when the carcass arrives on the sea floor and scavengers start to strip away the tissues of the whale. This can last up to 2 years depending on the size of the whale. The second stage is called the enrichment opportunist stage which also lasts up to 2 years. This is where communities of wildlife colonize in the surrounding area and the bones. They feed on the leftover soft tissue of the whale that the scavengers left behind. The final stage is called the sulfophilic stage. Specialized bacteria aerobically break down the lipids in the bones. They see that the whale act as a stepping stone for organisms that need to spread from one chemosunthetic community to another.
This article was very interesting. Before reading this, the thought of whales dying never crossed my mind. I never thought about what would happen to a whale after it dies. It's really amazing how a lot of marine life can come together and create a community in the carcass of the whale. Whales are beautiful and important creatures to this planet. Without them, other marine life wouldn't have a place to live or food to eat. The death of one creature is the start of life for others.
Powered by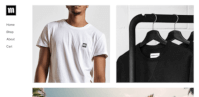 Create your own unique website with customizable templates.