Decibel Dilemma
Ron Chepesuik
The World Health Organization (WHO) declared that "World-wide, noise-induced hearing impairment is the most prevalent irreversible occupational hazard, and it is estimated that 120 million people worldwide have disabling hearing
difficulties"
Population growth and loss of rural land due to urban sprawl contributes to growing noise pollution; other causes include lack of adequate anti-noise regulations, electronics, vehicles on the road, and busier airports
The U.S EPA (Environmental Protection Agency) identified transportation (vehicles, trains, buses, motorcycles, trucks, aircraft, etc.) as one of the most pervasive outdoor noise sources
In 1981, more than 100 million people in the U.S were exposed to noise sources from traffic near their homes
Noise is defined as unwanted sounds by some experts (boom boxes, car stereos, drag races, lawn mowers, etc.)
Sound intensity is measured in decibels (dB), and A-weighted dB (dBA) is used to indicate how humans hear a given sound
In the U.S, 30 million workers are exposed to hazardous sound levels on the job, mainly from construction, agriculture, mining, manufacturing, utilities, transportation, and the military
Secondhand noise: noise that is experienced by people who did not produce it
Anti-noise activists consider secondhand noise to have a similar effect on people as secondhand smoke
Household tools and appliances like dishwashers, vacuum cleaners, and hair dryers can all reach up to or exceed 90 dBA
Exposure to certain levels of sound can damage hearing; it can even change the structure of hair cells in the inner ear, resulting in hearing loss
12 million Americans suffer from tinnitus, a ringing/roaring/buzzing/clicking sound in the ears
The more exposure a person has to noise, the more hearing loss will continue to grow
Noise exposure stops=hearing loss stops; change in an environment can improve hearing
Non-auditory effects of noise exposure: elevated blood pressure, loss of sleep, increased heart rate, cardiovascular constriction, labored breathing, changes in brain chemistry; these can lead to reduced productivity, decreased
performance in learning, increased drug use, and accidents
Excessive noise exposure in the utero can cause hearing loss in newborns
Noise Control Act of 1972 empowered EPA to determine noise limits to protect public health, and establish a noise control office: Office of Noise Abatement and Control (ONAC)
In 1982, the Reagan administration defunded the office because they don't have the "money or staff to do it"
Closing the ONAC had a tremendous negative impact; U.S lost its lead in regulating noise​
Noise is a big issue because 120 million people worldwide have hearing difficulties. Population growth and urban sprawl contribute to the growing noise pollution problem. Other problems include lack of anti-noise regulations, noisy electronic gadgets, rising number of vehicles on the road, and busier airports. Sound intensity is measured in decibels (dB) and A-weighted dB (dBA) is used to indicate how humans hear a given sound. The National Institute for Occupational Safety and Health (NIOSH) defines hazardous noise as sound that exceeds 85 dBA, which is the average noise exposure measured over a typical eight-hour work day. About 30 million people in the U.S. are exposed to hazardous sound levels on the job. Especially people working in construction, agriculture, mining, manufacturing, transportation, and military industries are exposed to loud sounds. The countryside is also exposed to noise pollution; 75% of farmers have hearing problems. Too much noise can result in hearing loss and can lead to increased blood pressure and heart rate, and labored breathing. Noise exposure has been linked to learning problems and excessive noise exposure in the uterus may cause high-frequency hearing loss in newborns. If noise exposure continues, hearing loss will continue to grow. But as soon as the exposure stops, the hearing loss stops. "A change in the environment can improve a person's hearing health", says William Luxford, medical director of the House Ear Clinic of St. Vincent Medical Center in Los Angeles.
​
The thought of me possibly losing my hearing never crossed my mind once. I didn't realize the things around me could possibly make me deaf. This makes me think back to all the times when I heard a ringing in my ear, which usually goes away after a while. I feel that I have pretty good hearing. For example, when I listen to music, my volume is halfway up; compared to my friend whose volume is all the way up. Although, when I am in a conversation or when someone out of nowjrre starts talking to me, it's like my ears just stop working. I don't understand what they are saying. It makes me wonder if it is just me that is like that or if it is everyone. I don't want to lose my hearing because of the things around me so I hope that people find a way where the everyday things we do are safe for our health and our hearing.
Powered by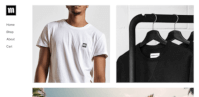 Create your own unique website with customizable templates.