How to Eat Invasive Species




Bun Lai
Nationwide, invasive species are destroying farms and fisheries, causing economic damage that has been estimated at $120 billion a year
A solution to invasive species is to eat them, "free weeding service"​
An important goal of the restaurant is to have the cuisine return to the roots of sushi, meaning simply to use what we have available where we live
Bun Lai's goal for his restaurant is for the cuisines to return to the origins of sushi. This means that he uses the resources around where he lives. To his advantage, invasive species are taking over the area; causing billions of dollars worth of damage. Bun Lai provides a "weeding service" by collecting the invasive seafood; such as the European green crab and flat oyster. He is catching invasive species, daily, for his restaurant in New Haven, Conn. He then turns them into exquisite dishes.

Eating invasive species is like hitting two birds with one stone. Bun Lai creates these delicious dishes from the invasive species. Bun Lai, his customers and the environment benefits from this. We humans get yummy food and the native species can thrive once again, with the alien species gone.
Powered by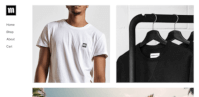 Create your own unique website with customizable templates.