Ecosystems on the Brink
​Carl Zimmer
Peter Lake's food web has flipped, shifting from a longstanding arrangement to a new one
Carpenter is running an experiment on the factors that lead to persistent changes in the mix of organisms eating and being eaten by one another
Whether by fishing, converting land into farms and cities, or warming the planet, humanity is putting tremendous stresses on the world's ecosystems
Ecologists are expecting many more food webs to flip in the years ahead
Prevention is key, they say, because once ecosystems pass their tipping point, it is remarkably difficult for them to return
Ecologists have turned food webs into mathematical models
Two species are strongly linked if they interact a lot, such as a predator that consistently devours huge numbers of a single prey
Species that are weakly linked interact occasionally: a predator snacks every now and then on various species
Food webs may be dominated by numerous weak links because that arrangement is more stable over the long term
Small changes can lead to big effects throughout entire ecosystems
The idea of this top-down control by a small fraction of animals in an ecosystem was greeted with skepticism
Food webs will continue to flip but sometimes it can be climate change
An ounce of ecological prevention may be worth a pound of cure
Carpenter and his colleagues began to create equations that could capture how ecosystems work
Carpenter is developing an early warning system that can reveal when a food web is about to flip and offer a guidance about how to pull it back from the brink
An ecosystem flip is when human or natural activities drive an ecosystem's top predator to the endangered list, giving the secondary consumers an opportunity to thrive. Humanity is greatly stressing the world's ecosystems and ecologists are expecting many more food webs to flip in the future. Scientists says that prevention is key so if they figure out a way to stop it from happening, we can save the food webs from flipping. Food webs have two kinds of links: strong and weak link. If two predators have a strong link, they interact a lot. One predator prey on a huge number of the same species. In a weak link, species interact occasionally. The predators snack every now and then; which is more stable on the long run than the strongly linked food webs. Even a small change can lead to drastic effects. Stephen Carpenter of the University of Wisconsin–Madison and his colleagues are developing an early warning system that can show when a food web is about to flip so they can prevent it from happening. They are doing this because once an ecosystem flips, it is hard for it to go back to the way it used to be; and because these ecosystems are so complex and surprising. Carpenter and his colleagues are conducting experiments with the early warning system at Peter Lake and nearby lakes to see if the system works. If it does, then we can prevent the world's ecosystems from flipping.

After reading this article, preventing ecosystems from flipping seems highly possible. People just need to be aware of these problems and organizations can be set up around the world. Children can be taught about these things so they do not make the same mistakes we do. I think that everyone should pay more attention to the problem of ecosystem flips. It affects the fish and also the humans. Many people will lose their jobs but more jobs can be created if we learn to protect the ocean. Then everyone will have jobs and the Earth's wouldn't be in danger.
Powered by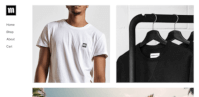 Create your own unique website with customizable templates.