​Wayne R. Ott and John W. Roberts
"Most environmental laws in the U.S. seek to control only the release of potentially dangerous wastes into the air and water, not the amount of contact people actually have with those pollutants. This focus on emissions rather than exposure essentially disregards the reality that toxic substances produce health problems only if they reach the body." This quote shows how people are more focused on the amount we're emitting rather than how those emissions are effecting us and our health. Officials frequently focus on limiting pollution from the most obvious sources, like automobiles and factories, but they are not always the biggest problems. The officials fail to recognize the less obvious but also important sources. A study has discovered that most people are more likely to have the most exposure to toxic pollutants not from the suspected sources, but places they consider unpolluted, like homes and offices. The main sources seem to be ordinary consumer products like air fresheners, cleaners, and building materials. The air pollutants protected outdoors by environmental laws are usually found in much higher concentrations indoor. For example, benzene, a chemical known to cause leukemia with continuous exposure in high concentrations, is in gasoline and household products. They are also one of 4,000 chemicals found in tobacco smoke. Studies have shown that reducing cigarette smoking would be more effective than cutting industrial emissions because it would significantly reduce the chance of getting a disease caused by benzene. Another example is pesticides. Outdoors, they can be broken down within days, while on indoors, they can last for years. They are protected from degradation because the pesticides are not exposed to sunlight and bacteria.

I didn't know that being indoor could be very harmful. There is fresh air outside which makes sense for it to be better but chemicals indoors is very dangerous. I liked having carpet in my house (although it is very hard to clean and care for) but I never knew how toxic it was. People should change their carpets to wood or tile. It would be much safer and easier to clean. When people enter their homes, they should take off their shoes or wipe them on a doormat in order to reduce the amount of lead or other chemicals that can be tracked in on people shoes. If people knew about this, they can reduce exposure by buying environmental-friendly products instead. Also, revising environmental laws would make them more effective. It will also help if companies list the names of the dangerous chemicals they use in their products.
| | |
| --- | --- |
| Elizabeth Grossman and Environmental Health News | February 20, 2013 |
Bisphenol A (BPA) is the most controversial chemical in consumer products; from it being in polycarbonate plastics, the can liner of food and beverages, paper receipts, and dental sealants. It is widely agreed upon that BPA exposure is ubiquitous because traces of the chemical is found in the bodies of more than 90% of Americans. BPA acts like the body's estrogen. It disrupts hormones and in laboratory animals, it alters the development of their reproductive system and brain. It can lead to breast and prostate cancer. According to some studies, those who have a higher level of exposure have an increase risk of obesity, diabetes, and cardiovascular disease. F
ederal officials are trying to decided whether the chemical BPA should be regulated due to the circling controversy of it affecting human health. A group of toxicologists is questioning whether BPA is harming human health; but some biologists who are studying the chemical's health effects disagree. They believe that the amount detected in humans is comparable to the amount that harmed lab animals.
At the American Association for Advancement of Science annual meeting in Boston, toxicologists presented their argument, "Do the math, Is it harmful?" A toxicologist's work focuses on physical effects observed in animals or cells by analyzing data with mathematical models. This produces the information used to set regulatory limits in chemical exposure. S
enior scientist at the Pacific Northwest National Laboratory Justin Teeguarden, and Daniel Doerge, research chemist at the FDA's National Center for Toxicological Research doubt that levels of BPA compounds found in people are having any effects. Teeguarden argued that the levels causing effects in animals studies are much higher than the levels in people.
On the other side of the debate are scientists who study BPA's health effects in lab animals at very low levels of exposure that are said to be comparable to the amount people encounter in consumer products.
University of Missouri-Columbia biology professor Frederick Vom Saal, said "at incredibly low doses, BPA can alter pituitary, breast and prostate cells." These effects have been seen in animal studies including those with primates. The biologists say that BPA, like other hormones, seems to have effects at low doses and doesn't occur at high doses. This is very strong evidence that suggests that BPA is capable of affecting health at exceptionally low levels of exposure.
The U.S. Environmental Protection Agency and Food and Drug Administration are using this information to decide whether or not to regulate BPA in consumer products. Some manufacturers have already stopped using BPA in plastic baby bottles and receipts.

Before reading this article I knew that BPA was a harmful chemical; after all, it is the first chemical on the Dirty Dozen list. But I didn't know it was this bad. It being highly controversial means that it is very bad and that people do not want to admit it because it is used in so many of our daily products. I always keep track of how much money I spend (a habit I developed from my mom) so I would always ask for the receipts. I had no idea that there was BPA in it. I always drink water bottles so that increase my exposure to BPA. Even though I usually do not eat canned foods, some of my family members do. I was told that eating canned foods was bad and can cause you cancer if you eat a lot. I thought that it was because of the preservatives they put in it but now I know the actual reason why it is bad. Not only that, my baby cousins are also being exposed to it through their baby bottles. The U.S. should put a ban to BPA and find a safer alternative for it. I do not want my family to be affected by the chemical. Meanwhile, I will tell my family to buy BPA free products and refuse paper receipts.
| | |
| --- | --- |
| Dina Fine Maron | May 6, 2013 |
A decade after manufacturer
s have finally stopped using flame retardants in furniture and carpet padding, many of the compounds still linger in homes. These chemicals could be hurting young children before they were even born. Researchers collected blood samples from 309 pregnant women in their third trimester to investigate the impacts of prenatal exposure to flame retardants. It was found that "
spikes in the levels of one class of flame retardant, polybrominated diphenyl ethers (PBDEs) correlated with behavior and cognition difficulties during early childhood
". Due to their mother's high exposure of PBDEs during her second trimester, the researchers then found that the children through the first five years of their lives displayed deficits as well as hyperactivity. In addition, if mothers had a ten-fold increase in PDBEs, the child had an average of 4 points in deficit on their IQ. There were two recent U.S. studies that showed association between prenatal exposure to retardants and developmental deficits and reduced IQ. One looked at children and PBDEs. "
That study measured PBDEs both in pregnant women and in the children themselves. It showed that there is a relationship between high PBDE exposures in utero and deficits in children's IQ, fine motor function and attention
". In humans, PBDE's lodge themselves into body lipids when contaminated air is inhaled or tainted dust swallowed, and can stay there for a long time. This is very because those chemicals can interfere with the endocrine system.
The structure of PBDEs strongly resembles thyroid hormones and affect thyroid regulation, which
can d
rive growth and development, in particular brain development.
Children are most prone to exposu
re because they spend
so much time close to
the floor and usually put their hands
in their mouths. The flame retardants were taken out of manuf
acturing in 2004 but they still remain in old furniture, the atmosphere, and dust.
However, furniture manufacturers stil
l use PBDEs because of a state law, the California Technical Bulletin 117. It states that furniture sold within the borders must be able to withstand a 12 second exposure to a small flame without igniting. California is revising its standard by requiring products to only pass a smolder test to prevent fires but not require use of flame retardants
in manufacturing. Parents can take extra precaution by having their children wash their hands daily and by replacing old furniture and carpet padding.

I honestly never knew that flame retardants existed. I can tell by the name that it is used to prevent fire in homes, which is great. What I didn't know is that there's a chemical in it called PBDE that is very bad. Babies and their mother are at higher risks and that is very sad. Once those pre-exposed babies grow up, theirs a possibility our economy will fall due to their decrease in IQ. It is not the manufacturers fault that people are being exposed to toxins but it is California's fault. Howe er, it is a very good thing that they are changing the law and making the lives of people a little safer without PBDEs.
| | |
| --- | --- |
| Jane Kay and Environmental Health News | December 10, 2012 |
Dr. Darragh Flynn tells her pregnant patients healthy habitats: avoid smoking and drinking, eat nutritious foods, and take vitamins. She recommends them avoiding gasoline fumes, pesticides, certain types of fish and some household cleaners and cosmetics. But she is just one of a few obstetricians and gynecologists that warn their patients of hidden dangers in their everyday lives. A nationwide survey found that out of 2,600 obstetricians and gynecologists, the majority of them don't warn their pregnant patients about chemicals in their food, consumer products, and environment that could harm their fetuses and themselves. "Many doctors say their priority is to protect pregnant women from more immediate dangers, and that warning them about environmental risks may create undue anxiety". Doctors don't inform pregnant patients of these dangers because they don't want to add to the stress of the upcoming mother and don't want them to worry more than they already are.
Practically all pregnant women have chemicals in their bodies and that can harm the baby's development. Out of 100 different chemicals, 43 of them were found in all the pregnant women that were tested. The chemicals include lead, mercury, bisphenol A, flame retardants, phthalates, and many more. Many of these chemicals can disrupt development of the brain or reproductive systems even at low levels of exposure. Some also increase the risk of birth defects, cancer, asthma, fertility issues, and other disorders. However, a lot of this very important information is not reaching most pregnant women. The University of California, San Francisco conducted a nationwide survey and found that almost all doctors said they discussed smoking, alcohol, diets, and weight gain with their patients. 86% discuss workplace hazards, 68% warn about secondhand smoke, but only 19% talk about pesticides. Only 12% discuss air pollution, 44% discuss mercury and 11% mention volatile organic compounds, which are fumes emitted from gasoline, paint, and solvents. Even more disturbing is the fact that only 9% of doctors tell their patients about polychlorinated biphenyls (PCBs), 8% bisphenol A (BPA), and 5% phthalates; the horrible toxins.

Since 2004, the U.S. Environmental Protection Agency and the Food and Drug Administration have warned pregnant women to avoid and/or limit the consumption of high-mercury fish such as swordfish, shark and albacore tuna. "Yet an estimate of 300,000 newborns each year - one out of every 14 - are exposed to levels of methylmercury that exceed the guidelines that the EPA set to avoid neurological effects in fetuses." Mercury in the womb has lead to reduced IQs and other effects on developing brains. However, fish is a good protein source for women. It just depends on what fish you eat. The problem is that most doctors are not being taught about nutrition or contaminants in school. On the other hand, the good thing is that since people have internet access now, they know about chemicals in cosmetics and plastic. But those women are middle-to-upper class women. The low-income women don't read articles online and don't know about environmental risks. Most of these women work in nail salons or clean houses, so they are exposed to chemicals constantly.

I understand that some doctors do not want their patients to be stressed because it can hurt the fetus, but it is essential to earn the mothers about all of the risks. It is unfair for doctors to make these decisions on their own. The mothers need to be aware of these risks so that they can take better care of their baby and themselves. If they are exposing themselves to the bad toxins, it is worse for the baby later on in life than when the mother stresses about the polluted environment. Also, doctors need to be taught everything, from nutrition to risks. If they are not taught this, their patients will be at risk because the doctor is not telling the patients everything she needs to know.
Powered by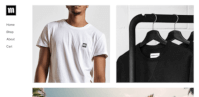 Create your own unique website with customizable templates.