Life in the Ocean


James W. Nybakken and Steven K. Webster
71% of the Earth's surface is the ocean

Marine life is a lot more diverse than land animals

The ocean is huge and researchers have only studied less than 10% of the oceans
One and a half million terrestrial species have been described but total estimates range from five million to more than 50 million, but only 250,000 species have been identified
Seawater is about 800 more times as dense as air
Sunlight does not reach the midwater and deep sea levels, which certain organisms depend on for photosynthesis so they depend on the surface's organisms that die and sink
The distribution of nutrients in the ocean depends on the temperature satisfaction
Cold, chilly and heavy water holds more nutrients
Temperature and depth of the ocean control the availability of oxygen
In order too preserve the coastal areas, the surface waters, the mid-waters, and the deep sea people must study links and learn how human activity can alter life in the sea​
Life in the ocean is more diverse than life on land. There are millions of species and organism that scientists have yet to discover. Out of those millions, we have only identified about 250,000. There are many different organisms that live in different parts of the sea, which consist of the coasts, the surface, the mid-waters, and the deep sea. Along with being diverse, the ocean is about 800 times denser than the air. This is why marine animals and particles of food are able to float endlessly throughout the water. The mid-water and the deepest parts of the ocean are unable to receive sunlight for photosynthesis. Along with the low level of sunlight, there are low levels of plant life in the ocean, due to the low level of nutrients. The levels of nutrients in the ocean depend on the temperature stratification. Colder waters will have more nutrients than tropical waters. Along with temperature being a factor in control of nutrients, it is a big factor in the control of oxygen availability. The deep sea will have low oxygen levels, because oxygen is only easiest accessed by the surface of the ocean. The deeper you go, the less oxygen there will be. Also, the pressure increases. The depth of the water has a big impact and determination of a marine organism. The other parts of the ocean, like the coral reefs, kelp forests, etc. are parts of the ocean that are more severely damaged by humans. Certain activities like fishing, diving, and digging of some sort are some causes for the destruction of marine life. In order to prevent this from continuing and in order to preserve the ocean, people must learn how human actions alter the life of the sea and possibly ours.

​​To me, the ocean is a very beautiful and interesting yet mysterious place. It is dangerous to explore the deep sea but the beautiful life lures us in. If I was a more adventurous person, I would study the ocean and and try to find new species from the deep. The things humans does to the ocean is horrifying and I am a part of it. It is sad but I can't really do anything about it. If we can find new ways to fulfill our greediness that will not affect our planet, everything will be so much better. Seeing how much damage we are doing to the ocean makes me want to help preserve it. It makes me want to become a marine biologist, but even though the ocean interests me, I feel like it is not the right kind career I want. The ocean helps us in so many ways but we are going to be the reason to its end, unless we find new ways or just stop everything we are doing and live without greed.
Powered by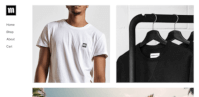 Create your own unique website with customizable templates.